Le tir à l'arc est un sport extrêmement populaire en Corée du Sud. Petite minute « info inutile : depuis 1884, la Corée a remporté au moins une médaille d'or à chaque Jeux Olympiques, 39 médailles en tout dont 23 en or. A Rio, en 2016, la Corée est montée sur la plus haute marche du podium dans TOUTES les catégories, individuelles et par équipe. La base quoi. Si vous vous découvrez une passion pour le tir à l'arc en Corée, voici le lien d'une vidéo qui explique leur invincibilité. De rien.
En France, on est champions du monde de foot, donc le tir à l'arc on s'en fout un peu. Cela dit j'ai quand même tiré quelques fois, principalement lors de vacances dans des campings, dans le Sud. J'ai la force d'une mouche mais curieusement, je me débrouille assez bien. Alors quand on m'a proposé d'aller faire une heure de tir à l'arc en plein centre de Seoul, j'ai direct accepté.
Archery is a very popular sport in South Korea. Parenthesis of 'you might be able to shine at diner one day with this information but probably not': since 1884, Korea won at least one gold medal at every Olympics. They won 39 medals in total, 23 were golden ones. In Rio, in 2016, Korea won gold in EVERY categories, individuals and team. If you feel like you need to know more about this insane capacity to be invincible, you can watch this video. You're welcome.
In France, we are football world champions so archery isn't really something we care about much. But I already practiced it few times in my life, specially during camping holidays in the South of France. I don't have any strength in my arms but weirdly I'm pretty good at it. So when someone mentioned it, I said yes immediately.
Arrow Factory n'est pas le seul établissement à proposer le tir à l'arc en indoor, ils ont d'ailleurs eux-mêmes plusieurs branches. Celui ou je suis allée se situe à Hondgae, un des quartiers les plus jeunes et les plus populaires de Seoul, il est proche des stations Hapjeong (ligne 2) et Sangsu (ligne 6) et on a l'embarras du choix pour manger ou boire un verre dans les rues qui l'entoure.
Arrow Factory isn't the only establishment to offer indoor archery and themselves have several places around. The one I went by is in Hongdae, one of the trendiest and liveliest neighborhood of Seoul. It's close to the stations Hapjeong (line 2) and Sangsu (line 6) and you'll have plenty of options to have a drink or grab a bite around.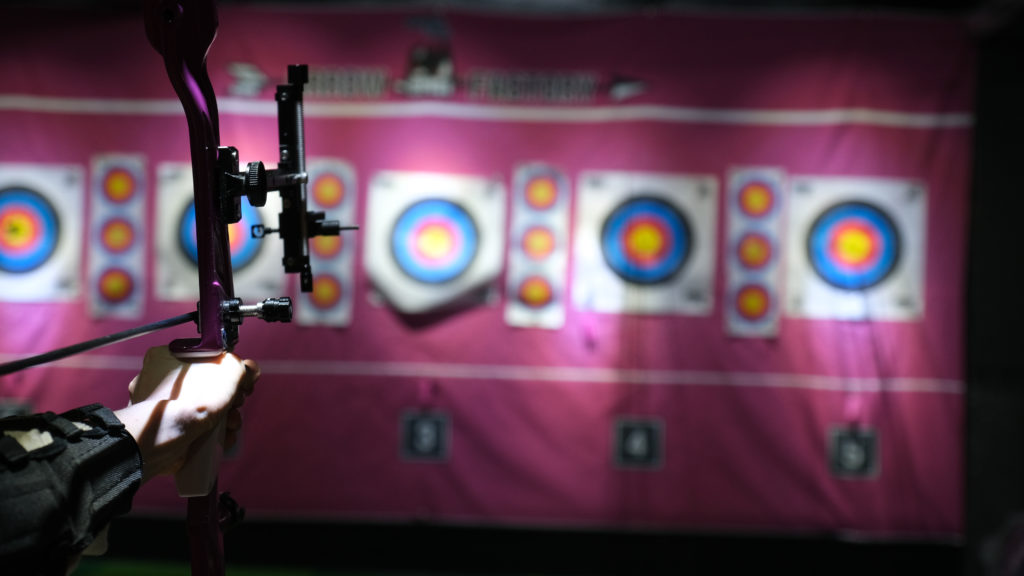 Nous étions deux, à se demander, quelques minutes avant d'arriver, si cela n'aurait pas été plus malin de réserver à l'avance. Alea jacta est. On est en pleine semaine, il est 17h, et il n'y a qu'un couple dans le café. Un des employés nous accueille, en anglais, et nous aide à nous préparer.
Ca ne rigole pas. Alors qu'en France n'importe qui peut attraper un arc, sans aucune protection aucune et tenter de toucher la cible, ici, on suit les règles de l'art. Protection pour le bras, le torse et les doigts, on ne risque pas de se blesser.
We were two and first we were wondering if we should've book in advance but since this particular thought happened about 30min before getting there we just went by. It was during a weekday, at 5pm and the cafe was empty except for a couple. One of the employees greeted us, in English and helped us get prepared.

And I have to say, it's pretty serious. In France, basically everyone can pick a bow, no protection whatsover and try to hit the target. Here, we have to follow the rules. Which means protection for the arm, finger and torso.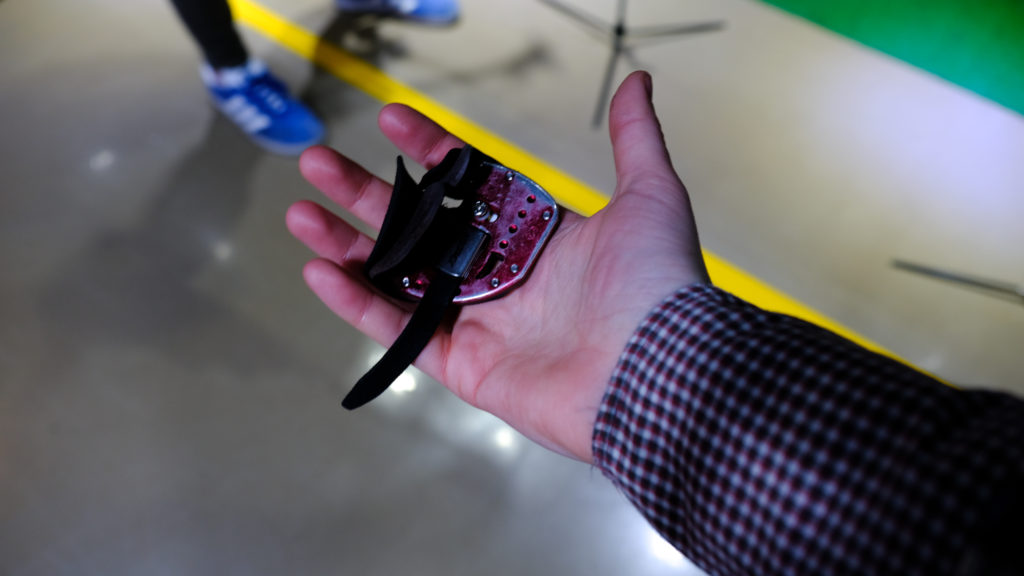 J'ai fait illusion environ 3 minutes. Refusant la leçon en disant que j'en avais déjà fait (et puis bon, on installe la flèche, on lève le bras, on tire sur la corde et on lâche en essayant d'être à peu près droit, il y a pas besoin d'avoir un master d'ingénieur non plus), on m'a donc demandé, le plus naturellement du monde, quelle tension je voulais pour ma corde. Calmée direct la petite française.
So obviously, I refused the lesson by saying that I knew archery (and seriously, you put the arrow on the bow, raise your arm, pull the string and try to hit straight, no need for a Master degree). Which led the employee to politely ask me what tension I wanted for the bow… Well, at least I did learn a lesson. No more showing off.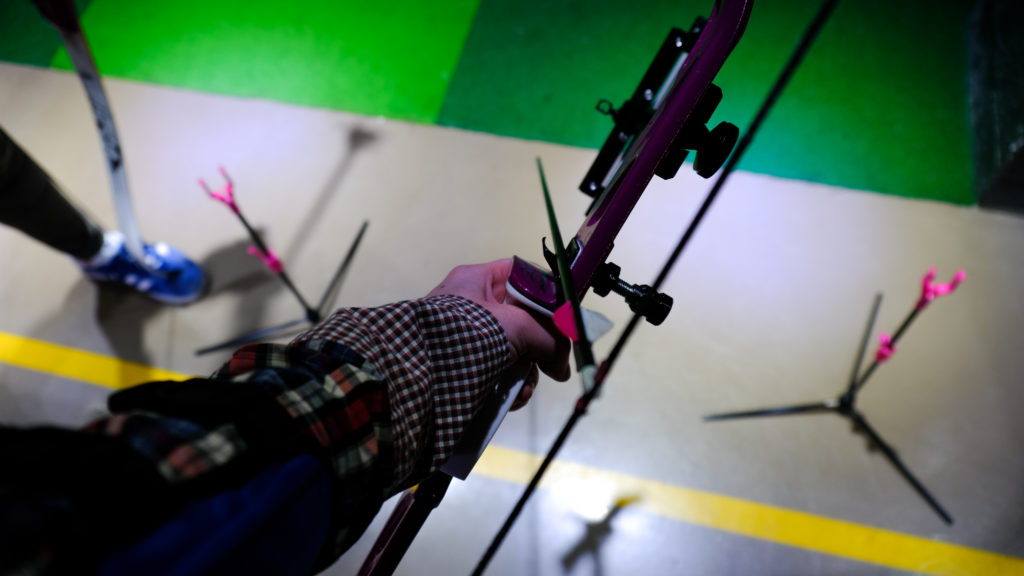 Les arcs sont de très bonne qualité, il y a un large choix selon les morphologies et le niveau de chacun. J'ai eu le droit à un grand arc rose/violet de toute beauté et après avoir récupéré carquois et flèches j'ai commencé mon heure de tir.
The bows are in perfect condition and they are really good ones and there are a lot of choices depending on your level and morphology. I got a big pink/purple bow, really beautiful and then, after getting my quiver and my arrows I got down to business.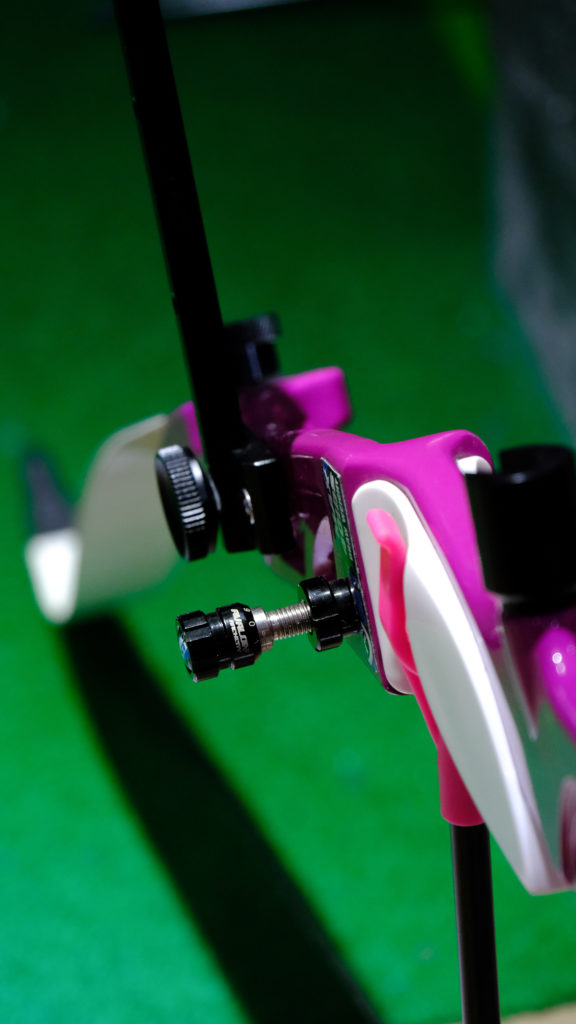 Bon, pour faire imagé, disons que si j'étais sélectionnée pour les Hunger Games, l'arc ne me viendrait pas à l'esprit. Je pourrais toucher la personne mais il faudrait se mettre d'accord pour qu'elle s'approche à 30 mètres et qu'elle ne bouge pas pendant environ 15 secondes. Zéro chance d'intégrer l'équipe nationale de Corée avant la fin de l'année je pense.
So, let's say it this way: if I were to be chosen for the Hunger Hames, the bow wouldn't make it my Top 10 of weapons of choice. I could touch someone, sure, but we first should agree on them coming about 30 meters away and not moving for about 15seconds. My hope of a national team selection before the end of the year is pretty dead.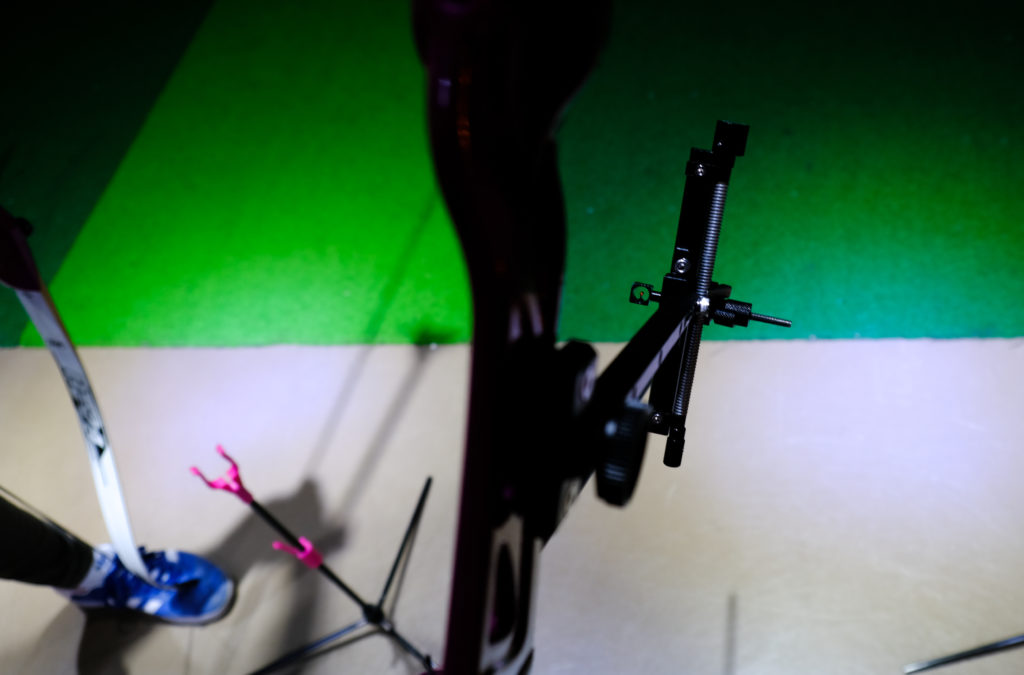 Evidemment, si l'arc n'est pas pour vous, il y a des arbalètes et ces petits couteaux. Histoire de varier les plaisirs.
Also, if archery isn't for you, there are crossbows and knives as well.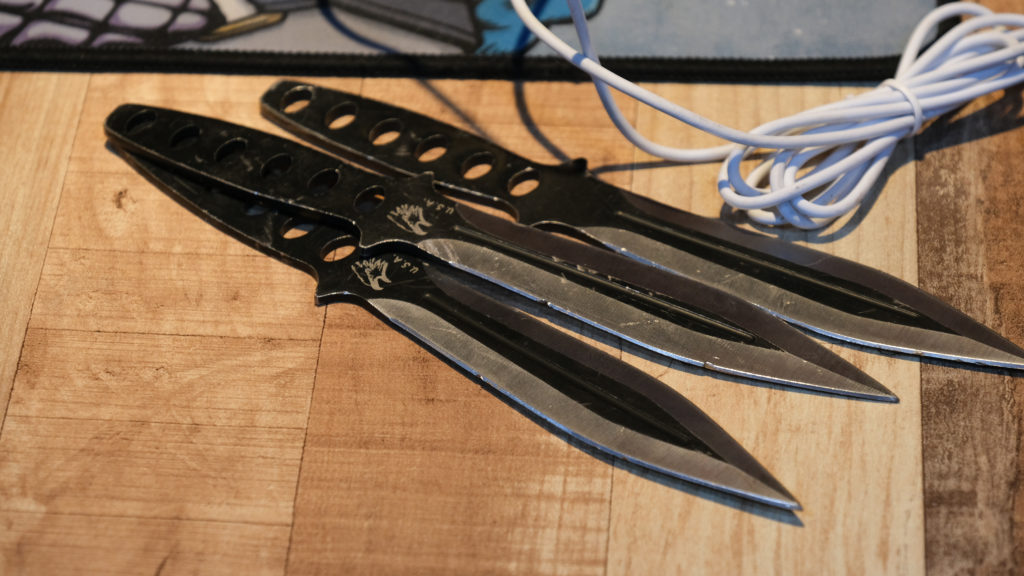 Les infos :
Archery Cafe « Arrow Factory »
https://arrowfactory.co.kr (oui c'est en coréen)
15000 won pour une heure, 30 flèches pour 10000 won
Info:
Archery Cafe « Arrow Factory »
https://arrowfactory.co.kr (in Korean)
15000 won for an hour, 30 arrows for 10000 won