Cet article est disponible en... / This post is also available in:

Français
A few days ago, I never heard of Seosan. As I don't know 90% of the cities in South Korea, it's not that surprising. But it turns out that not many people know about it. Which led the city to multiply their efforts to get Korean and foreigners to spend a weekend there. And they have arguments.
As I was part of a tour, I only saw a little part of Seosan, so there are few places that I can't talk about like this Buddha carved on the rock (one of the best-preserved one in Korea) that you can see here. I can't talk to you either about Gaeshimsa Temple (pictures here) that seem particularly beautiful during spring with the flowers blooming or the mountains nearby and the hikes that they offer.
But there are still a few things that I can talk about. This is what I saw/did: Haemieupseong Fortress, a little cooking class to learn how to make traditional snacks, Ganwolam Hermitage, a moonlight walk at Ongnyeobong Peak, the traditional market of Seosan, the visit of "House of Yu Gi-Bang" and a really crazy homemade museum. Which is not bad.
Haemieupseong Fortress
Haemieupseong Fortress was built in 1491 and its stone walls are probably one of the most well preserved in Korea. So, it's not surprising that this place is loaded with history. Many traditional buildings can be found all over the fortress and allow us to have a glimpse at the daily life of its inhabitants during that time of history. But the place is also known for something different and more terrible. During the 19th century, while Catholics were persecuted in the country, a lot of them were forced to go to the fortress as it was the administrative office back then. There, many were tortured to death, throw in jail and, in 1866, 1000 of them were hung. The 300-year-old tree is still there, standing, with traces of wires still visible, as a symbol of that horror. The stones used for torturing are also around, although not inside the fortress and the place was declared a holy place. Actually, Pope Francis came in 2014 while he was visiting Korea.
So, let's talk about something a bit more fun… The place is huge and can feel a bit empty depending on where you're walking but there are still quite a few things to do there. First, you can try (or just practice) archery (not free), you can try a hanbok and different kind of traditional clothing. There's a market inside, you can climb on top of the walls, have a carriage ride or try traditional and fun little games. It felt like it was made for kids but trust me, plenty of adults were having fun. There were also a lot of kids flying kites which is always a pleasure to watch. There are not many cherry blossom trees inside the fortress but plenty of these just around so don't hesitate to explore a bit the surrounding area!

Ganwolam Hermitage
My favorite place of the weekend.
This little temple is mostly known for the same phenomenon as Mont Saint Michel in France: during high tide, it's an island and at low tide, you can easily walk to it. Well, I can't say that it's as breathtaking as Mont Saint Michel which is one of my favorite places in France to visit but still, it's really beautiful. In an ideal situation, you would stay for a few hours to experience it fully, both as an island and not. Don't hesitate to go to the little village nearby, have lunch or diner and wander around to wait. The place is supposed to be fantastic at sunset, sadly I didn't experience it. I only visited the place at low tide, I think I'll go back for the high tide and sunset. (No, pictures are not enough.)

The temple itself is quite traditional, it's just quite surprising to see it by the sea as most the temples in Korea are in the mountains. It's very peaceful up there and even if you don't care about religions, the architecture, the little details, and quirky things will be enough to entertain you for quite some time.
And there's a bonus there! At low tide, many Koreans come to get clams, crabs and other little seafood easily accessible. Don't hesitate to watch them work, join them or do as I did, take pictures.
Snack making experience
I had the occasion to test the making of these little snacks that are very popular in Korea. They are made of rice, ginger, flour, and honey for most of them. I bought some few times already and it's sometimes a miss depending on how strong the ginger is. Full disclosure, I think it would be pretty difficult to do this activity as a solo traveler. The place is in the middle of nowhere, they don't speak English and it's made to welcome schools and groups.
We watched two animated movies that explained the making process and even though they were in Korean, it was very easy to understand. One of the guys there did a demo for us and then we were ready to go. We had about 30 minutes to make as many snacks as possible. It was really fun to do the full process which is quite simple. The most difficult was to stop eating all of the snacks before leaving. We all left with a big bag and it's always a pleasure to get something that you actually made. I still have a lot left to eat and I'm offering them to friends like "I made those, yeah". I saw a few cooking classes in Seoul but never of these little cookies so that was really cool to do. It's perfect as a solo person or in a group and it's really easy so everyone can do it (although not little kids as we have to be careful not to get burnt).
Ongnyeobong Peak
After diner, we went on top of Ongnyeobong Peak, one of the mountains in the heart of the city. It was completely dark so we could see the city with all its lights on. To get there is a bit of a workout but it's not hard. Perfect for digestion before going to the hotel.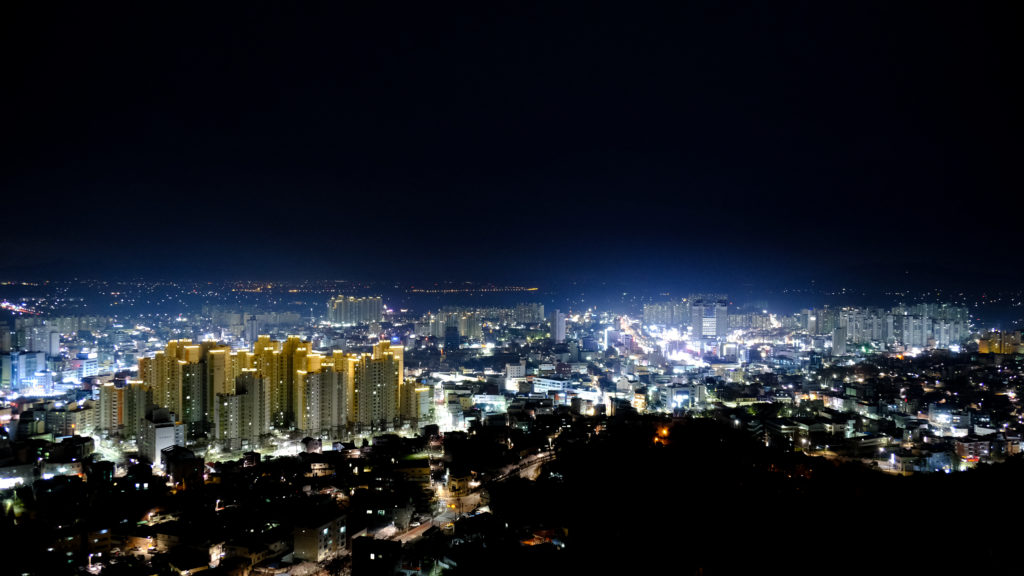 Traditional market
On Sunday we had free time at lunch to explore the market with 10 000 won (a little less than 8€) to eat inside. Between the little booths and the number of restaurants, the hardest thing was to choose what to pick. Seosan is really close to the sea so there's a lot of fish and seafood available there. This place is authentic, lots of Korean were there to buy their food or grab a bite. You'll be assured to get the freshest products there.
House of Yugibang
This big century-old house was built during the Japanese occupation of the country. We were there at the best moment which is from March to May when tens of thousands of daffodils are blooming. It's quite the show. Perfect place for a mean Instagram shoot. Since our time there was very limited I only took a very brief tour of the house, I mostly spent admiring the flowers. The entrance is not free, unfortunately, I can't tell you the prices.
We added one more visit before going back to Seoul. This 'museum' is a few minutes away from Yugibang. Ask at the entrance, they should help you with the direction. The place is a bit mind-blowing. It seems that a unique guy transformed this temple into something completely crazy. Few little places are filled with absurd objects and it's both a visit in the past but also of the present of Korea. It's free, it takes about twenty minutes to visit and smile in front of this organized chaos and it's quite the change from usual activities.
---
To go to Seosan by public transport you can choose the Express Bus Station or Nambu Terminal, depending on where you want to go. It will take about 2hours to get there. If you want to visit the fortress then choose Nambu Terminal, get off at Haemieupseong Bus Stop and you're basically there. If you want to visit the temple, choose the Express Bus Station and go to Seosan Bus Terminal, change for bus 610 or 611 and get off at Ganwoldori, the village right next to your destination. Attention, it will take about the same time to go from Seoul to Seosan than Seosan to the temple… There few buses daily but it would be obviously way easier with a car. I don't know the price of taxis. To get to Yugibang, I don't have all the information, you have to go to Seosan Bus Terminal, then go to Unsan/Haemi Station, then take a bus to Jeongmu Sudang-ri and stop at Yeomiri, only 5 minutes away of the place. Same, way easier with a car but nothing's impossible. There's a guesthouse there so you can spend the night.

We slept at the Benikea Hotel, a pretty impressive hotel that isn't completely finished yet (the gym, Noraebang, massage rooms,… aren't available yet) but the entrance, restaurant, and rooms are very nice. It's not the kind of place that I would book because it's way over my budget when I'm on my own by I kinda jumped in joy when I saw the bathtub. Breakfast was an unlimited buffet, very good, both continental option and Koreans ones and the employees were very polite. There's basically nothing around but don't worry, a convenience store is just in front of the hotel so you won't starve or die from thirst. About 70€/90000won for the night and two people, breakfast not included.

---
This weekend was sponsored by the city of Season in collaboration with Funday Korea Networks. All views are my own.